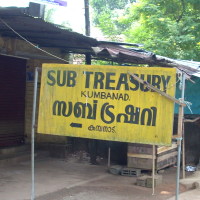 Leaving Thiruvalla was an easy matter. Having stayed in the heart of town, a 500m walk was sufficient to take us straight out of the town centre, and onto the TK road. Cherry stopped a little bit to catch up with a relative who wasn't doing well. We all caught up a little after Manjadi. We reached the Thottabhagom (literally "Garden Side") bridge across the Manimala river, waiting for the traffic lights to alternate traffic to either direction on this narrow bridge of vintage design. An interesting scene: the guardrails on the side had been broken by some sort of accident, and an ingenuous fix via bamboo sticks tied to the ends that remained served as a grim reminder of the safety standards we're accustomed to. It is little consolation that this very scene featured in the local version of the Malayalam newspaper.
We had breakfast on the other side, Parotta and accompaniments. The whole area looked was on holiday, today being Sunday. Sooraj remarked that it looked like a bandh day. Perhaps the first visible effect of the local Christian population, apart of course, from the ubiquity of churches. Soon we reached Eraviperoor, and visited the home of Cherry's parents. While they didn't live there at the moment, the home had been given out to rent, and Cherry seemed well acquainted with the residents. We had a light brunch, despite our protests of lack of time and the time of day.
On the way to Pathanamthitta, Anoop did a Western. He drew is camera in two seconds and fired a shot with his Canon camera. The result was the brilliant portrait of the behind of an elephant, from a passing lorry (Elephants are transported long distances along these routes on lorries). Soon it was Kumbanad, the mother of all Non Resident Indian strongholds. Churches packed with the elderly, beautiful residential buildings most of them unoccupied, immigrant labour employed in local businesses, and eleven banks at and around Kumbanad junction betrayed the Anglo/American/Persian Gulf - Malayalee connection.
Further on into this theme, and things began to get personal again. At Maramon, we made what was meant to be a quick visit to Anoop's uncle. Locally famous as "Kolathe vaidyan"'s grandson, this elderly gentleman appeared to not be in the best of health, and struggling to run the nursing school that this family of doctors had been running. One could only imagine that this venerable institution had graduated many a nursing aspirant and set them off on an expatriate career bringing home valuable foreign exchange. The family here were no-nonsense, and ordered us to sit at the lunch table. They shared lunch from what they had, again a down to earth family theme. Touched by this hospitality, we moved on towards Kozhencherry.
The pampa river once used to flow majestically down this area, swelling in turbulent anger in the monsoon and swallowing its puny banks with scorn. This beast was tamed by dams across its tributaries for hydroelectric projects, and today meanders down helplessly in timid quiet. In early February, the dry sandbanks on this river once hosted the famous "Maramon Convention", while later in the year, the famous and colourful "Uthrittathi vallom kali" (Snake boat race) hosted by the Aranmula Temple turns this very river into a scene of festivity. Today however, the sacred sand banks on which the convention is hosted, and clean embankments from which the "Palliyodam"s are gracefully nudged into the water for the boat race are but distant memories. Illegal sand mining and poor waste management at pilgrimage centres upstream have turned the area into a filthy quagmire. Gone are the glorious sand banks leaving bits of ruble and filth behind, so too the side banks. The reverie is broken as we cross the bridge across the Pampa river and reach Kozhencherry. Cherry takes the lead, as we head towards Pathanamthitta.
Punnakkaad is a little village, a little way off the main road to Pathanamthitta. Here lives Cherry's maternal grandparents, and he couldn't resist a little detour here too, to say hello. His grandfather, an energetic young man of 92, was delighted to have us, playing host and entertaining us while explaining to us how his wife had suffered from Alzheimers and is mentally incapacitated. He however, was youthful enough to escort us on our way out, about a furlong up the road where we took a deviation back onto the Pathanamthitta main road, and parted ways.
As we headed towards Pathanamthitta, we noticed that the roads had begun to become a little twisty, and the sides of the roads had been squeezed down. Since it was a sunday, the traffic wasn't all that bad, nevertheless, one would wonder how pedestrians would manage during the peak Sabarimala pilgrimage season, when traffic would become extremely dense. Presently, a hatchback passed us, braked in haste, took a U-turn, and pulled up alongside us. Another admirer perhaps? We walked up and began chatting. Turns out that this was the Sub-Inspector of Police for Pathanamthitta - Mr. Anil. We were inspired to see his enthusiasm at our project, and realized that here was someone who actually understood our motives to a certain depth! Truly a moment of excitement. He pledged his support for our walk, while we thanked him, and continued on, much invigorated.
Soon it began raining. We donned our raincoats, and Anoop's black raincoat provided perfect camouflage and perfect danger as a pedestrian. So he donned one of the reflective ankle straps that Abraham had brought along with him the previous night, on his arm. We reached Pathanamthitta amidst fighting off intermittent downpours, and managed to reach the town centre and take a few pictures. After dinner at a local stall, we headed off in the direction of Adoor, via Omalloor.
It became evident, that reaching Adoor tonight was close to fantasy, and we settled for Kaipattoor. The floor on the verandah of the St. Ignatius Orthodox church was comfortable and safe enough, at 11pm, without another option for stay. We settled here for the night without asking permission, for there was nobody around, and the gate was unlocked.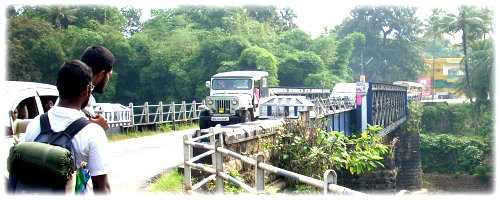 Freedom Walk Day 39 Image Gallery
People who walked:
The freedom walk trio.
Places walked:
- Thiruvalla
- Manjadi
- Eraviperoor
- Kumbanad
- Pullad
- Maramon
- Kozhencherry
- Punnacaud
- Pathanamthitta
- Kaipattoor