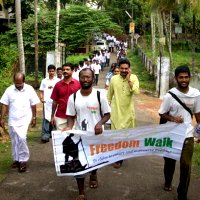 As usual, we said our goodbyes to the Kallambalam staff, and headed off towards Thiruvanthapuram. Being the second last day, we were now looking forward to the end of the walk, while savouring the last bits of it - a curious mixture of emotions, really. The road lost its markings and lay-byes and narrowed down to a tarred track once again. This would go on until a little after Attingal, where road works were in progress.
Near Kaduvappalli, we met with the curious sight of coin money being tossed out of passing vehicles. The reason for this odd behaviour soon revealed itself, in the form of men busy collecting these coins with the aid of a magnet stuck at the end of a stick they carried. A quick word confirmed what we had guessed by now - Kaduvapalli, the imposing Mosque of Kaduvapalli seemed to attract donations in the peculiar form of money flung at its doorstep. A temple had sprung up just next door, which seemed to emulate this evidently successful form of trade in blessings.
We reached Attingal by noon. The road works were annoying - right in the middle of town in the middle of the day. Fresh tar melt stuck to our footwear, as we tried to dodge traffic and the spray of fine rock dust in their wake. Soon however, we were met by a whole troop of students from Attingal Engg. college. They were holding a banner, accompanied by staff. They escorted us the approximately 100 metres to the college campus.
It was a great reception - well organized, and enthusiastic. The function was slightly formal, with PTA president and local political figures involved. However, the local staff seemed clued in, and by the time we spoke, the audience had been properly introduced to the topics, albeit with a slight bias towards Free Software specifics. We did the usual routine, with an emphasis on careers, since this is a professional college. This seemed to pay off well, and after the meeting was dismissed, a few students came up to us and badgered us with tough questions.
Later we were taken to the college computer lab - duly equipped with linux installations and well administered by the staff there. It was all very heartening. After discussions, and lunch, we left this really enthusiastic and proactive Engineering college.
We missed a further opportunity to visit the Govt. vocational institute a little further up the NH after Attingal due to a little mixup involving waiting for each other. By the time we cleared things up, it was too late ( college was dispersed ), and we headed on towards Thiruvanthapuram.
A little after half past four, Anoop tried poking folks he knew at Technopark. A quick meeting was arranged, and we sped in haste to the campus. Our enthusiasm was shortlived, however, for we just met his contacts, who seemed too weary after a presumably exhausting work day, to even get together for an informal "chai" session at the cafeteria. Cherry bumped into an Alumnus from CEA, and got re-acquainted. The rest of us entertained ourselves by taking pictures with his ankle reflector straps with the flash on - the pictures would get overexpose, leaving a halo around the straps. A good excuse to massage the ego with halo portraits.
After we were sufficiently bored, we left the technopark after notifying Campus security. Dinner was at the same place we had dinner from during the install fest/freedomtoaster ( http://www.freedomtoaster.in ) programme organised at technopark - an event that Anoop and Cherry had been involved in. The ambience was familiar.
We retired for the night at Kazhakootam KSEB section office - for the first time, retracing our steps backwards along the NH for about 300m. The reception at KSEB, as usual, was fantastic. We enjoyed the hospitality for what would possibly be the last time, and settled down for the night. Tomorrow would be an eventful day, with the closing events of the freedomwalk. We slept soundly.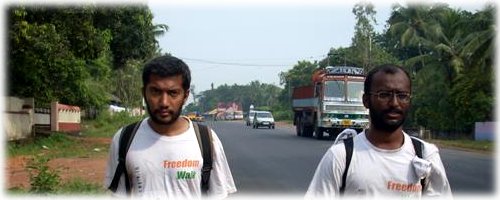 Freedom Walk Day 43 Photo Gallery
Places walked through:
- Kaduvappalli
- Chathambara
- Alamkodu
- Melattingal
- Mamom
- 18th Mile ( Korini )
- Toll Jn. ( Korana )
- Thonnakkal ( Kumaranashan Smarakom )
- Mangalapuram
- Alummoodu, Kaniyapuram
- Attingal by noon.
- Mahakavi Kumaran Asan Memorial, Thonnakkal.
- National Institute of Culture.
- Technopark, met ex-college mate from CEA.
- Halo pics.
- Liju.
- Kazhakkuttam.