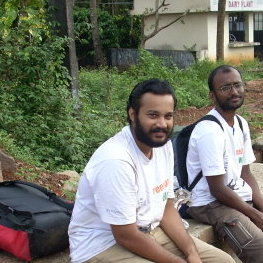 Today we set off a little unwillingly, for the weather was great to be curled up in bed on a lazy, overcast Sunday morning. The weather played its customary game of "drizzle till they pull out their raincoats", and we obliged grumpily. Our destination was Chalakkudy, where Anoop's relatives would host us.
The National Highway 47 seemed to widen a little after a while, and soon we got onto bits of the highway being widened. The one side would be worked on, while the other would be open to traffic, and this played to our advantage, as we could walk along undisturbed by traffic - there were no roadworks, as today was a Sunday. We also noticed that in the process of widening the highway, people had lost parts of their homes - there were bits of wall that were clearly indoors at some point of time - here was a sink and a cupboard, there door that was never meant to be facing outdoors - the wooden "saaksha" locks faced outside. Clearly, some people had sacrificed considerably, towards building the nation's infrastructure.
We reached Chalakudy in very good time, and had dinner from the "Indian Coffee House" there. Soon we were at Anoop's relative's home, and a really easy day passed by.
Distance travelled: ~18km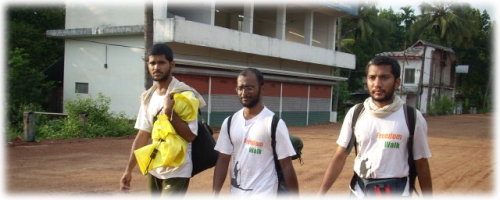 Freedom Walk Day 25 Photo Gallery
Places passed through:
Thalor
Aamballur
Puthukkadu
Nellayi
Kodakaram
Perambra
Walkers:
Sooraj K.
Prasad S. R.
Anoop John
Cherry G. Mathew