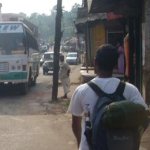 The hospitality at Mr. Gopidas's home was like an oasis in a desert. After the exhausting 36hours of the 3rd and the 4th, we slept like babies. The food that his wife had prepared was great, and the warmth and affection of the family was like balm to our weary hearts. Anoop got to meet his childhood friend, Anish.
Soon we were on our way towards Kottayam, headed for the M.G. University campus where the first programme of the day had been organised. Breakfast at the Gopidas household set us off at a brisk pace, and we were soon cruising along. Anoop knows the area well since he used to live there a lot when he was younger, and we made our way through little bi-ways at top speed.
We noticed that the Toddy shops in this area were painted green - something we had never seen before. Also a few of the gaudy coloured homes we had encountered especially in Malabar. Another curiosity we noticed were the recycling shops ( "aakri kada" ), which seemed to be more frequent in these parts than anywhere else we had been to before.
As we were walking past a rubber estate, we noticed a worker collecting rubber sap, and we struck up a conversation with him. As we were speaking, a police patrol motorcycle stopped by, and we were being questioned about who we were and about our presence in the area. We explained as we could, but one of the PCs seemed unconvinced, while PC riding pillion behind was immediately apologetic. They followed due process and inspected our identification and collected our contact information. Soon we had convinced them that we were genuine, and they were on their way. We recalled that a local on a bike had spoken with us with suspicion a little earlier, and probably had called the police.
Soon, however, Anoop's ankles were acting up. The long stretch of walking of the previous two day 80km marathon were beginning to show. The plan was to have lunch at one of Anoop's uncles' home, near Ayarkunnam. It became apparent early on, that if Anoop were to carry on to the University which was a good 20km from where we were at that point, we wouldn't make it on time for the seminar arranged there. So we made the hard decision that Anoop would skip this event, and head straight for Kottayam town, thus saving an extra 16km.
Cherry and Sooraj now shifted gear and hit a land speed record for walking, at least going by the notoriously inaccurate signboards, which indicated they had done about 9kmph. By 4pm, they had reached the M.G.University campus. The true average speed probably was closer to 6kmph.
The programme at M.G. University was in impressive settings. The seminar hall facilities were state of the art - projector screen, comfortable seating, air conditioning, etc. The audience was mostly from the Environment Science department. They had stayed back after normal working hours to meet us. We did the usual routine - the social aspects, free software, career opportunities.
After the event, we loitered about in the labs to speak with some of the organisers. Soon we were on our way to Kottayam. We had recieved word that Anoop had been ambling on somehow, and we made good speed too - about 16km to go.
Towards evening, we met a cousin of Anoop's, Manoj P. Varghese, fondly called "Manoj Chayan", by Anoop at whose place stay had been arranged for the night. His lovely family was accomodating and we tasted absolutely delightful informal hospitality once again!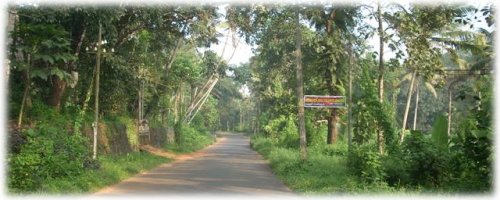 Freedom Walk Day 35 Photo Gallery
Walkers:
The trio
Places passed by:
- Vazhoor, Kodungur
- Pallikkathode
- Ayarkunnam
- Ettumanur (Cherry, Suraj)
- Athirampuzha(Cherry, Suraj)
- Kottayam
Distance: ~36km