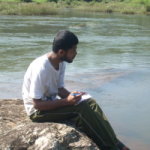 Since we had been falling behind on the mileage acrued so far, we started off early from Kanchiar. We had been promised that the route would be mostly downhill, but things were not so simple up here in the Ghats. We slowly learnt that for every slope, there is a matching uphill climb in this area. Walking down these beautiful areas, we noted that the roads had lost their quality after leaving the Painavu area. The road seemed to be following the Mulla-periyar river for a while, and we couldn't resist wetting our feet in it.
K. Cheppath is a sleepy little junction, with a few provision stores and other essential infrastructure to support a plantation worker community. We were about to cross, what was described as the biggest bridge in Kerala, but what in reality was probably just a small sized bridge. More interestingly, Monday seemed to be a local holiday, since the plantation workers worked on Sundays. On the whole, this looked like a little microcosm in a small way. We also saw the "permanent strike" booth of the "Mullaperiyar Samara Samithi", an organisation that apparently opposed a dam project across the mullaperiyar river. We posed for photographs.
As we went further towards Kottayam district, we could feel that we were going gradually downhill. However, the landscape showed no sign of changing its high-range look, and the hills were adorned with tea and coffee estates. We saw tea-pickers at work, an occupation which is apparently becoming extinct due to mechanised tea harvesters. However, we were told by an estate manager, that hand-picked tea is often the best quality tea.
Idukki seemed to be developing the same problem of waste management, as Wayanad is, although not to the same extent. The piles of rubbish were still distinctly unmanaged, a little far off from the nearest town we were wearily heading to - Elappara. Unfortunately for us, we had run out of money, and the nearest town with an ATM was Kuttikkanam - still further along, on the Kottayam-Kumali (KK) highway. Elappara was disappointing, with open drains and a general air of decay and filth, which marred the beautiful landscape it is nestled in. We had just enough money scrounged out from loose change to afford a late lunch, and headed off to Kuttikkanam. Once again, the winding roads downhill were tempting to bypass by cutting across their necks, but this was the last time we were to attempt this - there were leeches in the tea gardens. Finally, the descent to Kuttikanam began, but we were too late to reach Marian college by now, and had to scuttle our plans for any activity here.
After dinner at Kuttikkanam, we hit the KK road. After Palakkad, this road was the most dangerous road, with loaded trucks slaloaming up and down. In comparison to the wide, well marked roads of Muvattupuzha and Thodupuzha, this important road seemed to be neglected. It is very interesting that the busiest two highways in Kerala seem to be the least user-friendly we have been on - shoddily paved, without markings, with absolutely no room for pedestrians, no traffic monitoring by police patrols, and a whole load of rash drivers - no wonder if these roads are death traps. It was also interesting to see Maruti Omni vans plying in large numbers at night along this route.
The KK road takes one down the Western Ghats to the midlands, on the way to Kottayam, and by later in the night, we had reached Murinjapuzha. A quick decision was made to not go ahead to Peruvanthanam church, because it would be too late for the vicar, if we intended to stay at a church. We had a late refreshment at a coffee shop at Murinjapuzha, which seemed to be run by Benny Peruvanthanam ( ex- state youth congress president ) and Nixon Jose ( another youth congress activist ). We had an entertaining conversation about our walk and the pros and cons of free software. Afterwards we walked up the steps to the catholic church here. The vicar was not at home. So we asked around and got his phone number. Soon he arrived, and we greeted him warmly.
It is to be remembered, that we hadn't shaved since the walk had begun, since the facilities we had stayed were ad-hoc, and we were therefore bearded, and appeared a little disheveled. We had got the odd remark about being "terrorists" or carrying "bombs", especially since Cherry was carrying an imported sleeping bag tied to his backpack, which is not a familiar object in these parts. Nevertheless, we had stayed and befriended the Vicars of three churches before this, and were quite hopefull of getting permission to at least use their veranda and the public toilet here overnight. What ensued here was however a painful reminder of the realities of globalisation and the "war on terror".
The vicar kept us in conversation, and asked us about our route and other activities of the day. He looked distant, and a bit worried. He walked into his office to make a phone call, and returned to cross examine us. Soon, a few members of his congregation showed up with a hunting rifle. One would wonder why they had gone out hunting rabbit in their night clothes. Or why they had showed up with just a firearm and no kill. Or why they had showed up at the house of the God of peace with a firearm. Perhaps they supposed that us three dishevelled, unshaven, tired young men were actually terrorists up to some mischeif at their church ?
It would appear so. Anoop suggested that the Vicar, Fr. Thomas should perhaps consult the online version of the Hindu newspaper, where a featured article with pictures of Cherry, Anoop and Prasad had been published. This he acquiesced to, and the misunderstanding was cleared. There was however a tiny detail that had been overlooked. The police had been called, and two PCs were on their way. After refusing the hospitality of this church, we carried on onto the highway - we decided to continue walking through the night - in true Gandhian spirit, to punish ourselves for this stereotyping and profiling that we had been victims of. On the way, the police jeep stopped us. The PC seemed to be very experienced. After going through what seemed to be a standard repertoire of questions, and inspecting our identification, he seemed satisfied. We were offered a ride to the police station, which we politely declined.
Kerala has traded with, and hosted Arab and other middle eastern communities even before the dawn of Islam and even Christianity. There are Jewish and Portugese influences as well, and of course, the colonial British and Dutch influence. Just take a walk along the coasts of the country, and the inevitable signs of historic ancient international trade are hard to deny. Take a sample of facial features across the state, and the variety would be mindblowing. How could such a beautiful culture evolved over centuries of tolerant and peacefull immigration suddenly turn segregationalist ? How could cultures that have co-existed peacefully suddenly turn on each other and suspect one another ? More importantly, how could shallow stereotypes such as an unshaven appearance, trigger such a defensive mindset in the general public in a state which prides itself for its 100% literacy and educational and professional prowess ? Why have we developed a culture of "guilty until proven innocent", while the Universal Declaration of Human Rights insists on exactly the opposite [1] ?
The growl was bone chilling. Six eyes gleamed ahead of us from the light of traffic. It was close to midnight, and we were very tired. We paused for a second. It was a mistake. You never stop when a pack of dogs challenges you. A standoff is a sure recipe for an attack. You either proceed without flinching, if it is safe, or fall back and seek help. Our exhausted minds were however not thinking much, what with the events of the previous couple of hours, and we got into the perfect standoff. Three vicious dogs, unleashed by their owners, versus three tired young men. Soon they had us cornered, with umbrellas drawn. The leader of the pack was about to attack when the Police jeep returned, driving straight into the animals and scattering them. The standoff was over. We were shaken, and relieved, but nobody was hurt. The PC once again asked us for our ids. He'd forgotten to note down the id numbers. He asked once again if we would like a ride to the police station. We politely replied that the whole world was watching, and to do that would be to accept the current social situation which had led to this drama. We had been preaching to "be the change you wish to see". Here was the perfect point at which we could practise it. So we walked all night that day, and until 5 o' clock in the evening, the next day, when we reached Vazhoor, near Kottayam. A total distance of 80km, on the alert for dogs. We had coffee at Mundakayam in the wee hours. Sitting down for too long was dangerous, because our bodies would slip off into sleep. However, Anoop's feet were acting up, for the strain on our feet would have been too much. So we planned on quick, scheduled rests, and not sitting for too long.
At long last, it was getting to morning. We had an early tea at Mundakkayam, and much later, breakfast at a small junction in Vazhoor. We also met Toms, one of Anoop's friends, who teaches at a local Engineering college. Towards Noon, we passed by Kanjirappalli. We were however too exhausted to even think of giving seminars, so we had to skip all of the educational institutions on the way. The last 12km were taken in 7hours, such was our exhaustion. Anoop was really struggling to put one foot after the other, and Sooraj looked like he would walk in his sleep. He would speed up ahead, and take a nap for a few minutes until the rest of us caught up. At Vazhoor, we passed by the Tiruvalla Medical Mission Hospital where Anoop's grandfather had practised. We also passed by the hospital he had been born in.
Exhaustion was our friend, as we hit the bed at the home of a family friend of Anoop's, Mr. P.N. Gopidas of Magnum industries.
[1] http://www.un.org/Overview/rights.html , Article 11.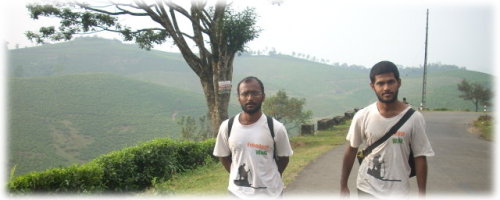 Freedom Walk Days 33 & 34 Photo Gallery
People who walked:
The trio.
Places passed through:
- Labbakkada
- Thoppippala
- Swaraj
- Vellilamkandam
- Ayyappankovil
- Marykulam
- Parappu
- Aaladi
- K. Chappathu
- Karimtharuvi
- Erambadam
- Elappara
- Memala
- Pallimala
- Kuttikkanam
- Murinjapuzha
...
- Vazhoor, Kodungoor.
Mileage: ~82km.