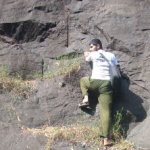 After yesterday's exhausting 40km-ish uphill trek, we'd slept soundly overnight. Some of us had not even changed out of our dirty clothes. The cool weather however, refreshed us, and we woke to the sound of chirping birds. Looking out of the PWD rest house, the view is breathtaking. The Dam reservoir spreads out into the distance, with a ring of hills around it, as if on guard. The presence of the Dam seems to be a good thing for the wild life, as human settlement is not allowed in this now restricted area. Small reprieve perhaps, for all the wildlife that was lost underwater to the reservoir.
Soon we were on our way downhill from Painavu, cutting across hairpin curves by walking straight down the hill once. This saved us a lot of mileage. We also did the usual without gear Rock Climbing demo photo sessions - never more than 3ft off the ground, unlike what the photos would suggest!
Breakfast was a simple affair of Bun and curry and tea, and we were soon making way across the Dam and further downhill. There is a lot of impressive wildlife here, for example, gigantic Moths, about the size of a human hand.
- As is usual, towards noon, we stopped by a random home for "Kanjivellom". We made friends with the man of the house, who told us that he was on a break from the Persian Gulf area where he worked on an offshore oil rig. What a paradise to come back home to, after presumably long, arduous days of labour in a hostile, foreign land!
Towards evening, we asked around and found a short-cut to by-pass Kattappana. Since it was evening, we had nothing to lose by this saving, and shortened our route considerably. While walking through the country again, we met an unexpected local politician - Mr. Roshi Augustine, MLA of the area. He was very friendly, young and energetic, although a tad patronizing. After taking pictures, we moved on.
We reached Kanchiyar St. Mary's Catholic church pretty soon, and Fr. Philip Thadathil (vicar), Fr. Sebastian Muthuplackal and Mr. Biju Kalassery greeted us with exceptional hospitality. After being treated to some fruit and drink, we retired gratefully for the night.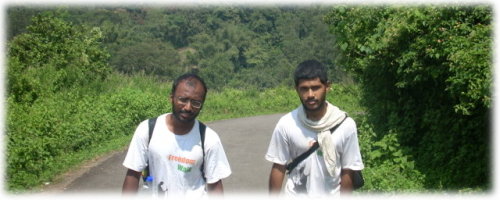 Freedom Walk Day 32 Photo Gallery
Walkers:
The trio
Places passed through:
- Vellapara
- Narakakkanam
- Double Cutting
- 10th mile (Pathaam Mile)
- 8th mile (Mamalapuram) (Ettaam Mile)
- Vaazhavara
- Mulakaramedu
- Vellayankudi
- Kakkattukada
- Kanchiyar
Mileage:
~35km/day