We reached Kasargode at around 7:25AM and met Sooraj K. who was joining us for the walk. He works for Ascent Engineers which is emerging as a key player at fsug-calicut. There was a car sent, by Mr. Ranjit, Sys Admin, KSEB and an active Free Software Organizer, to pick us up from the Railway Station which we politely declined as we had set our minds upon not using any other means of conveyance other than walking. This had complex implications which we realized only later.
We walked to the Govt. Guest House, Kasargode which was around 2 Km from the station and walked from there to the Municipal Bus Stand where we were supposed to be flagged off for the walk by Municipal Chairperson, Kasargod. There was a public meeting earlier that day which we were supposed to be part of had we taken the car from the station. We missed the function and the associated media coverage but we were flagged off by the Chairperson. We had a brief conversation with her and a couple of her counsellors before we set out. We then called up two of the media people who had come for the function and they promptly came and interviewed us about the campaign.
In between we had breakfast at a hotel. We set out to Kanhangad at around 10:30AM. Around 5Km from Kasargod we reached Melparambu where we met a group of students with whom we spent some time. They then took us to their school and introduced us to the teachers who had come to the school to prepare for the sports day. We met the IT teacher who shared his perspective of the Free Software and IT scenario. It was a little sad to know that there was no community support around and there were not too many people with computer access for one and internet access for two.
We left Melparambu and went via Kalanadu, Udma, Palakkunnu and Thrikkannavu where we took the beach which took us straight to the Bekal Fort. We had lunch somewhere in between :-). We walked for around 4 Km via the beach. The walk was good but for the fact that the beach was used as the public toilet for people around that area. We felt that there is a definite lack of awareness about the need of public hygiene. Walking to Bekal fort was fun because we could see the fort from the point where we started and since it was still a good 4 Km away from us, it looked as if the fort kept moving away as we moved closer. Only once we reached the fort that we realized the size of the fort that resulted in the mirage effect.
After tea and snacks at Bekal we went via Pallikkara, Puchakkadu, Manikkothu, Madivayal and reached Kanhangad at around 8:30. This was a disaster as we had a meeting organized for us at 5:00PM. We missed it because the distance between Kasargod and Kanhangad was calculated to be only 20 Km whereas in reality, it was 30 Km. We however met with two of the organizers of the meeting - Mr. Ranjit, from KSEB and his friend with whom we had dinner. We had a long discussion about what we need to do in Kasargod to build a strong Free Software Community and how Free Software can drive positive changes in the system.
We felt that that meeting was productive but missing the original meeting was a disaster. It was clearly an error in estimation from our part. All the distances estimated for the route have been estimated from Google Maps and a paper map but it looks like the error factor can be massive for small distances. We hope that the community would scrutinize our published schedule and bring out any errors that are clearly evident.
Ranjit had also arranged stay for us at the PWD Guest House and we hit the beds at around 12:00PM. We are planning to walk till Cheruvathur tomorrow. Cheruvathur is Sooraj's native place and is around 15 Km from here. We are shooting for a shorter second day as we are sure that muscle pains are going to set in tomorrow. We also have a couple of schools on our way - around 2-3 Km detours and a function at Cheruvathur.
So that is all for day 1. We cannot upload photos as the EVDO that we had taken with us does not have range in these areas and we are depending on a very slow GPRS connection. We hope we will not face this problem as we move through bigger cities.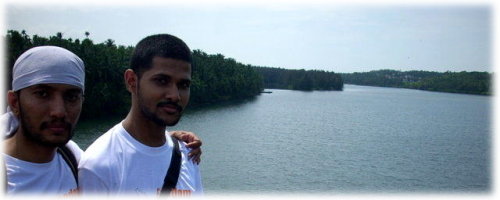 Freedom Walk Day Photo Gallery