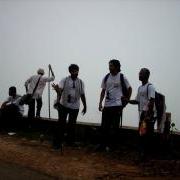 The KSEB office is not exactly conducive to slumber. The phone rings regularly, even at unearthly hours, and the night staff seem to be quite busy here. The entrance to the office is guarded by a steel roll-shutter, which is opened and shut a few times during the night. Finally though, its time to wake up for real, and we're soon on the road.
Today, we head into the Western Ghats, its going to be a long climb, up eleven hair pin curves. Everyone is anticipating relief from the stifling heat once we reach higher altitudes. We don't intend to stop over at schools, because many schools will be shut today as well, and we need to reach our accommodation in Wayanad, a good 19km away at Korome, before 10pm, or the caretaker would not be available.
The hairpin curves are interesting. The climb is not as harsh as we'd imagined, and as we gain altitude, the weather gets cooler with cloud cover providing intermittent relief. Half way up the magnificently paved and well marked road, we take a break at a lovely little tea shack, where we have "kappayum meen curryum" ( tapioca and fish curry ). The couple who run the place are very sweet, and the lady makes a special vegetarian spice dip for Anoop, who is vegetarian. The view from the dining table is just brilliant, the entire valley lies in front of us, shades of green, with clouds laying a sheen of magic white - its almost mystical. But later, as we leave the tea shack and carry on uphill, our reverie is harshly punctuated by strong odours and unpleasant sights. Every bit of land along this lovely route where traffic can stop, is used as a rubbish dump, the visiting public have littered the place with plastic, and local businesses contribute to the eyesore with their rock quarries, the annoying sound of jackhammers providing matching noise pollution. Even sadder, the local public seem to be unconcerned, and imply that the local panchayat need to take initiative.
Wayanad deserves better!
A little towards the last hairpin curve upwards, Manuel Jose joins the walk. He's from Wayanad, and now takes over as tour guide. The trek towards Korome is not very eventful. We have dinner from Nilavilpuzha, and Jason leaves us to make his way home after providing three days of entertaining Sanskrit shlokams and padyams.
We do have curious queries from locals, as usual. Finding the Korome PWD Tourist Bangalow is not straight forward. But we manage to find it. It could do with a bit more attention, especially with daily maintanence.

Freedom Walk Day 9 Photo Gallery
People who walked today:
Anoop John
Prasad S R
Sooraj S
Cherry G. Mathew
Jason Nedumpala
People who left at the end of the day: Jason Nedumpala
People who joined the walk: Manuel Jose
Places passed by:
- Poothampara
- Valiyavalavu
- Pakram thalam
- Valamthodu
- Pannippadu
- Nilavilpuzha
- Korome