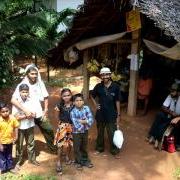 Today is Maha navami day. All educational institutions are shut. According to Hindu custom, students would have put their reading material before the deity of Durga devi (Goddess). Today we intend to cover as much ground as we can, so we start out early. A strong cup of tea at 7am helps us pick up the pace, and we set off with vigor, intent on covering as much ground as we can. Walking early is, unsurprisingly, very easy, and we cover a good amount of ground, without tiring much. Breakfast is from "Vilyappalli" - literally "Big Holy Place" - in this case, perhaps a reference to the local Muslim Masjid.
We pass through Mayyannur, a typical rural Keraliya village - surprisingly, there are no newer buildings here - what we see here could very easily be the same scene from at sthe turn of the century.
The natural scenery turns a bit greener, and we get another chance to enjoy the bio-diversity of Kerala. To our left, at Ponmeri Parambil stands a grand kshethram (temple), with a little "Kuttichaathen Ambalam" - literally "little demon temple". To the right, is a little stream flowing into a pond, with a lot of aquatic life. Jason and Anoop amuse themselves by watching the little fish flit in and out of the current. There's an abandoned, broken bridge a little further along the stream. Anoop seems to be enamoured by a cormorant doing impressive underwater outings and surfacing at random.
People seem to be extremely friendly and cordial, especially after they hear our mission, they offer to buy us a drink of water, or a meal. We politely decline more than one offer, and move on at a good pace. Soon we get a chance to turn off the road from Thanneerpandal, and follow along the side of a canal. Anoop decides he wants to walk along the dry canal bottom, and the rest of us carry on along the side. But his expedition is cut short when we get to bits of the canal which are wet, and a little further along has been closed over. There isn't much shade along the side of the canal, and towards mid-day, it gets a little too harsh for all of us. We stop by a local shop and gulp down lots of water and local fruit produce - mostly banana and plantain. After much trotting in the sun and a lot of friendly greetings from locals, we decide its time to leave the canal route and hit the road again. Lunch is at Kakkettil, a little late at 3pm.
The first drops of rain hit us at Ambalakkulangara. Soon the drizzle turns into a downpour, and the raincoats and umbrellas make an appearance. The kit-list is a bit unbalanced between the five of us. Jason and Sooraj have no umbrella's between them. Prasad has a water-proof jacket. Cherry has a raincoat and a hattie umbrella, and Anoop has a raincoat and two umbrellas. The effects of plodding through a tropical downpour aren't too hard to imagine. The state of drench of our heroes at the end of the hour is however, a little bit counter intuitive. Anoop gets his shorts wet and his shoes a soggy mess, mostly because the coat isn't long enough. Cherry gets drenched through, because he has neglected to button up properly. Prasad does reasonably well, given the circumstances, and Sooraj claims that the hattie he's borrowed from Cherry has kept his head dry. We shall leave the state of drench that Jason is in, to surmise and common sense.
Kuttiady is a small-ish town. We wander into "Ideal public school". The group of people we meet is very interesting - a very good mix of students, entrepreneurs and local software programmers. The discussion borders around the relevance of free software, the risks of opening source - especially in the context of local programmers, and software licensing issues. A lively debate ensues, and the matter is deferred for indepth discussion at a later date. The response is absolutely thrilling, given that this is exactly the kind of response hoped for from a local software community. We head off to Thottil paalam, where stay is arranged at the local KSEB office by Mr. Yunais. The staff on night duty are very accomodating, and put up with us with a lot of grace.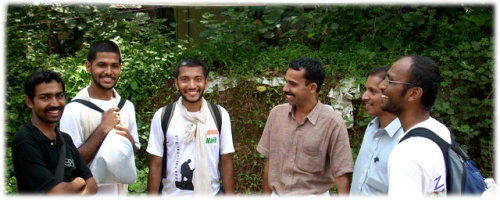 Freedom Walk Day 8 Photo Gallery
Places passed through:
- Kuttiyadi (Start)
- Vilyapalli
- Mayyannoor
- Ponmeripparambil
- Kalleri
- Kuningadu
- Thanneerpandal
- Kummangodu
- Kakkettil
- Ambalakkulangara
- Thottilpaalam (Stay over)