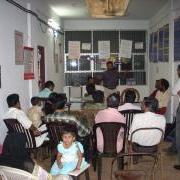 The faculty at "Kalagrammam" are fondly called by their name, followed by "Maash". For non-Indian readers: "Maash", is a corruption of the word "Master", which was the form of address towards teachers in the good old days of the British Raj. M.V. Devan, ideologue of Malayalam modernist painting thus becomes "Devan Maash", Mahesh Mangalat becomes "Mahesh Maash", Chaalakkara Purussu becomes "Chaalakkara Maash" and so on. "Mahesh Maash" and "Chaalakkara Maash" calls on us at the guest house in the morning. "Chaalakkara Maash" is also a reporter for the local "Kerala Kowmudhi" newspaper. An impromptu interview is arranged.
The view from the "Kalaagrammam" campus out across the "Mayyazhi puzha" to French-Mahe, is lovely. "Rajendran Maash" shows us around to the front of the building, and we have the privilege of meeting "Devan Maash", one of the most celebrated artists in the country. "Mahesh Maash" shows us around French-Mahe, buys us breakfast, and sends us on our way towards Vadakara, past the last liquor shop and the last Petrol Station after innumerable ones past in a rather small area - before we hit Kerala state territory again - visible reminders of the benefits of Mahe being a union territory. We have probably created history by being the first set of five young bachelors who have spent a night in Mahe without a hangover.
The walk towards Vadakara is rather boring - we just follow the national highway. Jason Nedumpala joins us at Azhiyoor, and the group has now grown to six. Jemshid and Cherry head out at top speed, to reach Vadakara North KSEB Section office, where a reception has been organised by Mr. Yunais of FSUG Kozhikode. One of the suggestions at the reception, is that we promote the walk through more visible, conventional means, to ensure that our message reaches the common man. This is discussed and the conclusion that local communities can indeed help with this, is reached. Our interaction is really encouraging, and we learn about how KSEB has deployed GNU/Linux and other free software within the KSEB IT infrastructure, throughout Kerala. We also learn about "Oruma", an inhouse project by KSEB to do their Billing accounting - a project which surprisingly shows the exceptional enterprise that can be hidden within a conventional public body. The warmth of the reception and the community feel is almost palpable, and we head off towards the KSEB substation quarters, where accommodation has been arranged for.
The trek will resume really early tomorrow morning, as it should - possibly at 6am. There's a similar reception at Kuttiyaadi, which we hope to reach by evening.

Freedom Walk Day 7 Photo Gallery
Places passed through
- Mahe
- Azhiyoor Panchayat
- Kunjippalli
- Chombala
- Onchiyam Panchayat
- Madappalli
- Naadapuram Rd.
- Kainaatti
- Adakka theruvu (Nut Street)
- Kuttiyaadi (Stay over).